About Us
Delivery Service Now Available: Grubhub.com
Healthy Chinese Food
Finding healthy Chinese food can be quite challenging.  It seems like everything now is filled with excessive amounts of calories, sodium, sugar, and grease.  We at Golden House are setting a new trend.  We offer healthy and affordable alternatives to traditional Chinese fast food that taste great.
Chef Chan, our head chef, grew up in China and knows how real Chinese food should taste.  He has been preparing delicious and creative Chinese dishes for over 20 years, and he cares about the food he prepares for his customers.  He'll make it the way you like it.  With over 100 items on the menu, Golden House provides something for every taste.
Oh… and we're serious, we will prepare our food using healthier options upon your request. Just ask for minimum oil, gluten free, low sodium, meat substitutes, or brown rice options when you order.
Our Mission Statement
"We care about your health and well-being so that's why we have a selection of healthier choices to accommodate you. Just ask for something done and we will try to make it as you wish."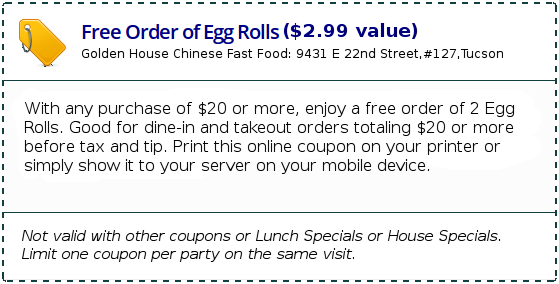 Free Wi-Fi Available